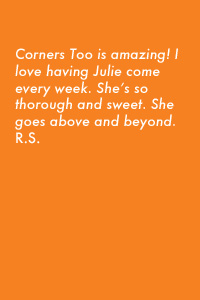 Residential cleaning is our specialty – Ongoing and one time or occasional cleaning.
Real estate and Property Management – Rental turnovers, maintenance cleaning of vacant or staged properties for sale, and general move-in and move-out cleaning.
Commercial Space – Professional offices and small retail space.
Construction Clean-up – Light construction clean-up after a remodel.
Vacation and Relocation cleaning – Temporary maintenance of vacation homes and property needing short-term upkeep during a relocation.
Carpets and Windows – Referrals will be made to other professionals when carpet and large scale window cleaning are required.
 For a complete list of cleaning details, please click here.
 Surprise a friend or family member with a gift certificate from Corners Too Housecleaning!