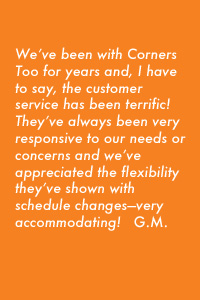 Reasonable Rates – Corners Too Housecleaning offers competitive rates with flexibility to adapt cleaning routines to budgets.
Personal House Cleaner – Our clients are matched with a personal housecleaner to enhance the efficiency, depth and consistency of the cleaning process while building a working relationship of trust.
Pet-loving and Friendly – Yes we are! We aim to please and are responsible and responsive to your needs and requests.
Satisfaction – We strive to meet and exceed your expectations. We'll make it right if something should go wrong.
Detailed Cleaning – Thorough cleaning is the standard. We do corners, too!
Special Needs – If you need to change the time or day of a cleaning or have other needs, we will do our best to accommodate you.
Cleaning Products – We bring our own eco-friendly cleaning products and equipment.
Reliable – You can count on us being there. We're independent and have been doing business in the Boulder area since 1986.
Professional – We're professional, yet small enough to care, communicate and coordinate effectively.
Personal Attention – You deserve it and we'll make sure you get it!